What is Laser Coaching?
For times when you need help now!
Laser coaching is a 15-minute paid coaching session in which we will work on one specific issue that is getting in your way and impeding your progress.
There are times when you need help right now. You simply can't spend three months discerning an answer to your current demands. You need help to make the best choice NOW!
Sign up for your Laser Coaching Session now!
You will receive a confirmation email that includes a link to pay for your session. 
Unsure of which type of coaching is right for you? Learn more about career coaching and laser coaching.
Here are just a few examples of how Laser Coaching Sessions can help:
To determine an immediate course of action that would bring some positive energy into a conversation with a superior at work;
To understand what is happening in your life causing you to feel depleted or overwhelmed;
To bounce ideas off an impartial party for different perspectives or find different interpretations of whatever is happening in your life.
Find solutions and new projects to help you get over your post-project depression.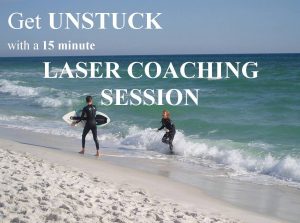 In other words, laser coaching is designed to get you unstuck on a particular matter and move you out of your own interpretation to a new place enabling you to take the best possible action right now.
You may find that there are some unpleasant triggering emotional concerns getting in your way, like anger or disdain. These may need to be addressed before action can be taken. Or you may need to understand what is making this important for you. Think of laser coaching as a quick hit to handle a specific difficulty. You should be aware there might be a few more interruptions than you would get in a regular coaching session for clarification purposes.
You will be amazed at what you can accomplish in a 15-minute session. We can work on whatever you want, to create a shift in your life, gain some insight, or see a new direction for your own desires or goals. We can create some action steps or understanding to maintain your momentum.
Laser coaching will let you go deep and get to the heart of the matter quickly because both of us know time is limited. We want to hone in on the "greater truth" as we explore the presenting issue.
Sign up for your Laser Coaching Session now!
To make the most of a laser coaching session:
Show up on time, ready to talk about your issue;
Be completely 100% honest about whatever is going on, knowing what you say is confidential;
Be willing to trust yourself, me, and the process, to get you where you need to go;
Be open to taking action or thinking in a different way; and
Stay focused on the one thing you have brought to the call for help.
Laser coaching cost $75.00 per session and can be paid via PayPal.
Sign up for your Laser Coaching Session now!