Hillary is available for motivational speeches at events, seminars, presentations, and retreats. Talks can be done in increments of 20 minutes, 30 minutes, or 45 minutes. Each one will cover the basic points with some audience participation, and time for questions. Click here to contact Hillary.
Hillary's talks: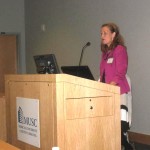 Change Up! A Roadmap for Negotiating Necessary Career Steps
Tips for handling transitions from graduation and first job through retirement.
Get Your Writing Done!
Learn to write on deadline with ease to achieve professional success.
Getting Back Your Moxie: 15 Tips for Overcoming Writer's Block
Jumpstart your writing process for professional success.
From the Inside Out: Handling Stress
Stop experiencing dysfunctional stress, and learn how to get over it.
From Awareness to Action: Effective Communication:
Learn how to ask, and how to listen, to get the best results.
Leadership by Example: Ways to Guide
Learn your own leadership style and get ideas for guiding teams to success.
Organize to Prioritize! The TAFFY System
Get past being overwhelmed and design your workflow.
Promotions with Poise: Confidence Building
Tips for moving up in your career.
Rekindling the Vision: Imagination and Goal Setting
To regain excitement, focus and productivity in your work.
Starting Over: The End is the Beginning
Advice for career changers, whether voluntary or forced, to move up and on.
Surviving and Thriving: The Collegial Department
Negotiating the shift from peer to supervisor, learning to listen, managing change.
Transitioning Your Life: Learning to Handle Change
Understand what happens when face with major changes and get some tips for it.
Talks Specifically For Academics
Demystifying the Dissertation
An overview the process, from picking a topic through oral defense and final edit.
Pathways: Living Successfully as an Early Career Academic
Learn to balance teaching/research/administrative duties with all of your life.
Landing an Academic Job: The Search Process
For graduate students who want to understand and know the normal process.
Contact us

now for more information or to reserve Hillary as your speaker.