Courage, Risks and Rewards: 10 Reasons to Act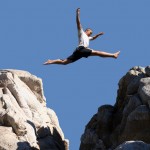 "Look before you leap." As a rather impetuous and curious child, I heard that admonition from my parents, especially my mother, on a fairly regular basis. In an event my father no doubt does not remember, I clearly remember when I stopped using my middle name at about age 8. After climbing onto the roof of the garage at our (one-story) house, standing thoroughly entranced with the view from above down the block, I heard my father's stern voice, "Hillary Lee Hutchinson, you get down from there this instant." I knew I was in big trouble from the tone, and as a result, I have never been able to disassociate the use of my middle name from being in trouble.
OK, so scrambling up on the rooftop might not be the best example of good risk taking, and my father's anger was most likely due to the fear I'd fall off and seriously injure myself. However, taking a risk doesn't have to mean arbitrarily jumping in where angels fear to tread. It may actually mean taking a calculated jump: you might first want to brainstorm some other ideas about how to get that great view from the rooftop, then figure out a more secure way, possibly using a ladder, to get up and down. Then you might want to spend some time evaluating the possibility for success or failure in taking the risk, perhaps even discussing the options with some trusted advisors (in my case, sister and brothers) before you actually put the plan into action.
But don't let the fear of risk overcome the will to action. It's human nature to magnify the possibility of failure over success. It's a brain thing. To paraphrase Richard Hanson, "Mistakes stick to our minds like Velcro, but successes slide off like Teflon." From an evolutionary point of view, mistakes can kill you, but success is a kinda of "so what." We humans also have a tendency to think we cannot handle things when they don't go perfectly, and that is not true either. We are in fact designed as pattern-detecting instruments, and we often have more options sitting there ready to be launched when something goes wrong than we ever realized. Calculated risks are the ones where the downside is reasonably limited (or at least we think so!) and the possibility of a great outcome is virtually unlimited. In simplest terms, it truly looks like the gains will outweigh the risks.
So, as we in the Northern Hemisphere continue to hope for the final winter thaw, what risks do you feel ready to take?  It may help to remember that everything we do in life is risky, from getting in the car to pick up kids from school to taking an airplane across country to a convention where you are giving your first public talk. As Helen Keller once said, "Security is mostly a superstition. It does not exist in nature, nor do the children of men as a whole experience it." Yes, taking a risk is scary. But not taking a risk can be deadening, and in it's own way, set you up for failure. Risk taking lets you live on your growing edge.
Here are a 10 more reasons to take risks:
You learn to conquer your fears;

You grow your skills, talents, and abilities;  

You get to make things happen instead of waiting for things to happen to you;  

You learn that failure isn't necessarily or automatically fatal;  

You find that mistakes are part of any process;  

You may learn to let go of the judgments of others;  

You recognize that no one ever achieved their dreams without action;  

You grow in confidence and stand out to others as a success;  

You feel exhilarated and fully alive when taking the risk pays off; and  

You understand that taking calculated risks is indeed rewarding at many different levels: financial, emotional and developmental.
You have to learn how to take a chance to change your life. To help you overcome your fear of taking risks, you can get my 5-part self-paced course Courage, Risks and Rewards for just $97.00. You will get one short lesson a week by email, including exercises to find where you are getting stopped, and help you "get a move on" as you start thawing out.